Stainless steel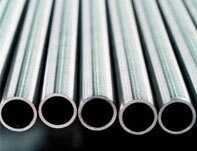 In the 21st century, a stainless steel is used virtually everywhere: for the erection of buildings and engineering structures, manufacturing of high-tech equipment and products for everyday life, construction of all types of transport and the creation of works of art, and so on.
The popularity of stainless steel is provided by a set of useful qualities of the material and significantly exceeds the level of demand for other types of steel alloys:
reliability and durability,
resistance to corrosion and many other types of aggressive environments,
external aesthetics,
In addition, stainless steel is fairly easy manufactured and does not require a high maintenance costs during operation.
The "Metal-Komplekt" Company represents a broad range of stainless metal-roll and products in the domestic market. Our prices are competitive, the service is comfortable and efficient and supplied products are of consistently high quality.
Telephone: (861) 278-23-77 | (861) 252-96-41 | (861) 299-91-21
The basic range of stainless steel products of the "Metal-Komplekt" Company.
Stainless sheet. We supply flat-sheet rolled steel, for constructional and special purposes, production of "Mechel" Company, "Red October" VMP, as well as foreign brands - Inokspoint, PT.JINDAL STAINLESS INDONESIA, ACESITA, YEUN CHYANG INDUSTRIAL CO.,LTD and others. Among the other properties that a stainless steel sheet has, it worth to mention ductility and ease in machining with a high ratio of solidity and rust resistance.
Stainless pipe. The Company does sale pipes of different profile and length, including the traditional round as well as oval, square and rectangular cross-section. At the request of our customers, we carry out supply of stainless pipes of specified length and diameter.
Stainless circle. This position is highly demanded within the stainless rolled section steel and used in dozens of areas, starting from rolling of one-piece pipes and finishing with manufacture of interior items and the stamping of qualitative tools.
Stainless steel pipe bends. Durable and rust-resistant elements for the connection of pipeline sections are needed during the construction of communications at all levels. Made of stainless section steel on various technologies (hot rolling, stamping, welding, cold-formed), pipe bends are characterized by high reliability and long lifetime.
All products of rolled metal and stainless steel are manufactured from the steel of the assorted grades, including heavily alloyed 08H18N10T, 12H18N10T, 20H23N18, 06HN28MDT, 10H17N13M2T, etc.
"Metal-Komplekt" LLC sells flat metal-roll, stainless sheets and coils, pipes and circles, as well as reinforcing products at manufacturer's prices, with the guarantee of qualitative conformity to the highest requirements and standards.